Regular price
Sale price
$50.00 USD
Unit price
per
Sale
Sold out
 THE INSTANT NATIONAL BESTSELLER

No Ordinary Dog is the powerful true story of a SEAL Team Operator, military dog handler, and the dog that saved his life.

Two dozen Navy SEALs descended on Osama bin Laden's compound in May 2011. After the mission, only one name was made public: Cairo, a Belgian Malinois and military working dog. This is Cairo's story and that of his handler, Will Chesney, a SEAL Team Operator whose life would be irrevocably tied to Cairo's.

Starting in 2008, when Will was introduced to the SEAL canine program, he and Cairo worked side by side, depending on each other for survival on hundreds of critical operations in the war on terrorism. But their bond transcended their service. Then, in 2011, the call came: Pick up your dog and get back to Virginia. Now.

What followed were several weeks of training for a secret mission. It soon became clear that this was no ordinary operation. Cairo was among the first members of the U.S. military on the ground in Pakistan as part of Operation Neptune Spear, which resulted in the successful elimination of bin Laden.

As Cairo settled into a role as a reliable "spare dog," Will went back to his job as a DEVGRU operator until a grenade blast in 2013 left him with a brain injury and PTSD. Unable to participate in further missions, he suffered from crippling migraines, chronic pain, memory issues, and depression. Modern medicine provided only modest relief. Instead, it was up to Cairo to save Will's life once more―and then up to Will to be there when Cairo needed him the most.
Review
"No Ordinary Dog is not what you are expecting; this is not a normal war memoir. Yes, Will was a Navy SEAL who served at the highest level. Yes, he was there when we killed Osama bin Laden. But this is a story about someone else who was there: Cairo. Cairo was the only dog chosen to be with us that night in Abbottabad, Pakistan, but that is not the only time we served with him. I personally fought next to Cairo in many different theaters of war but also trained with him around the globe. The Operators had meals with him and watched movies with him. We all did. Military Working Dogs have been on the frontlines since the wars began and have saved countless lives. This is Cairo's story." ―Robert J. O'Neill, former Navy SEAL and New York Times bestselling Author of The Operator

"Former U.S. Navy SEAL Chesney offers an inside look at life in the Special Forces and pays tribute to his canine partner Cairo in this heartfelt debut....Dog lovers and fans of military history will be enthralled." ―Publishers Weekly

"An outstanding book that captured me through to the end. Read this not just for the dog, or for the SEAL Team stories, but for its truth about the most precious of bonds: that between a man and his best friend." ―Mike Thornton, Retired Navy SEAL and Medal of Honor Recipient

"No Ordinary Dog demonstrates the healing and redemptive nature of the human-canine bond...Will Chesney and co-writer Joe Layden have done a public service by sharing this story. It's a fast-paced opportunity to understand more about today's military and the role of K9s in keeping our service members safe. It's a heart-felt tribute to the human-canine bond. But most importantly, it encourages people with PTSD and TBI to reach out for support." ―Military Working Dog Team Support Association

"By every measure, Cairo most certainly deserves to be remembered as the American hero that he was...Cairo―and other military and law enforcement working dogs like him―are heroes of the unwavering loyalty and steadfastness that perhaps only a dog could fully muster. Cairo's story helps us to remember that." ―The Havok Journal
About the Author
WILL CHESNEY served in the United States Naval Special Warfare Development Group as an operator and dog handler. He participated in Operation Neptune Spear, which resulted in the death of Osama bin Laden. Chesney received a Silver Star and a Purple Heart, and now helps veterans who have suffered a traumatic brain injury.


JOE LAYDEN is an award-winning journalist and freelance writer whose work has been honored by the New York Newspaper Publishers Association, the National Associated Press Sports Editors, the New York State Associated Press Association, and the International Reading Association/Children's Book Council.
Share
View full details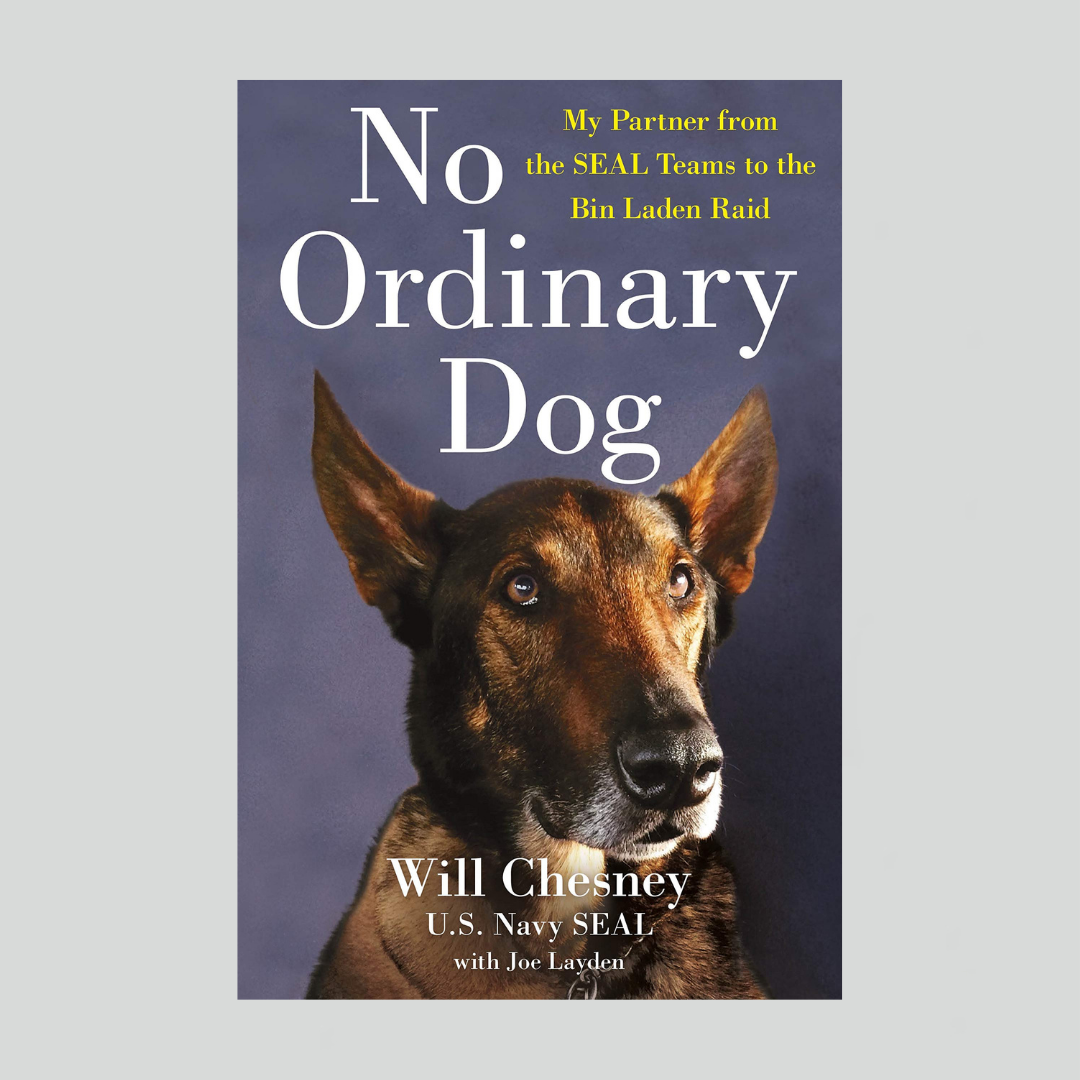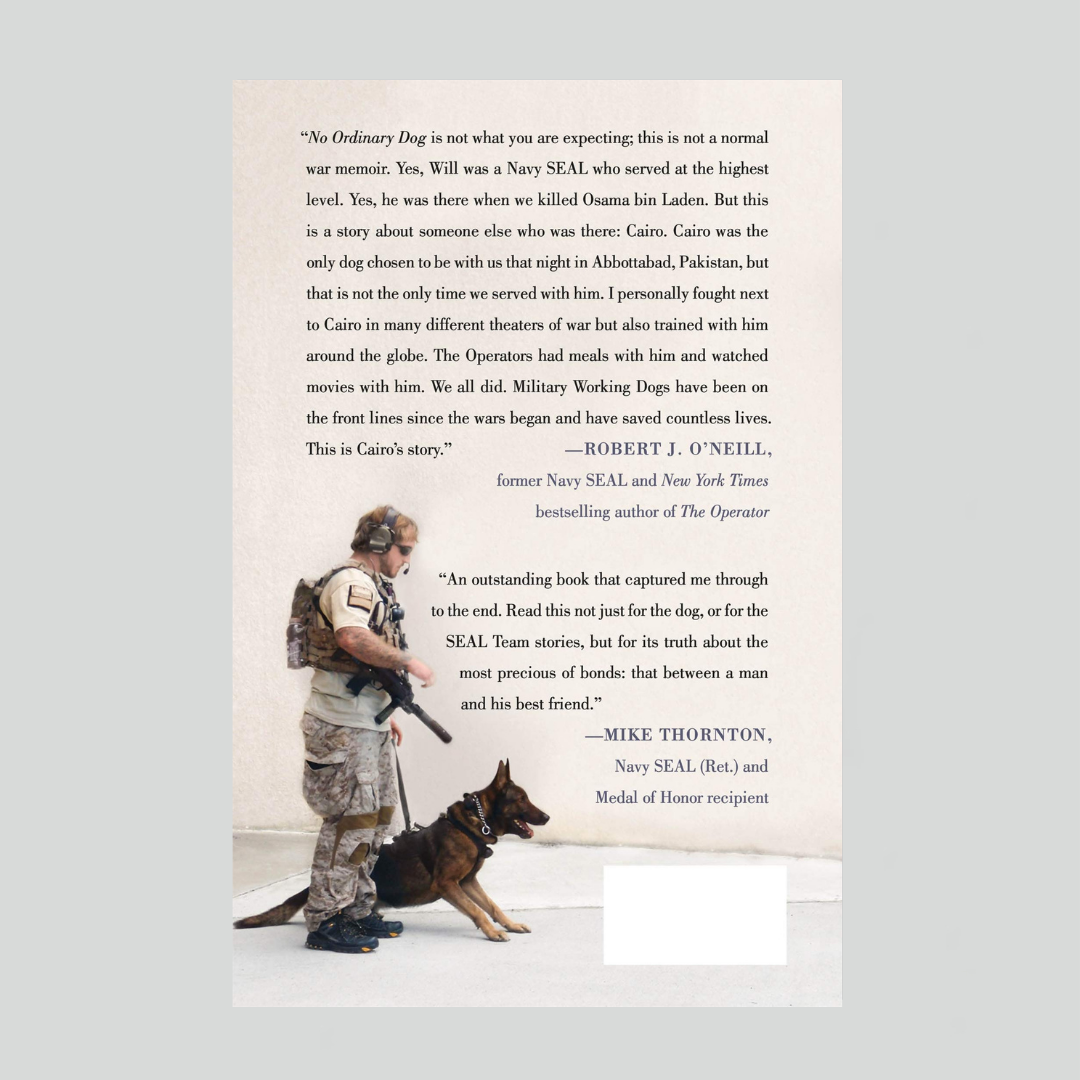 Very nice setup
The book is very nice and the autograph is a fantastic touch. I look forward to reading it.
Amazing
The book was amazing, a real eye opener as to what the Seals go through to get there. The dogs are amazing as well. I had a hard time putting it down so it didn't take long to read it. Yes the end had me crying. Loved the book!
Great read!!!!
I'm not much of a reader but I could not put this one down. Thanks to Will for sharing his experience with Cairo.
Great book!
Such a good story, definitely recommend.