Regular price
$250.00 USD
Regular price
Sale price
$250.00 USD
Unit price
per
Sale
Sold out
The shop prices are set to help maximize the benefit to these heroes. Proceeds go directly to the care & rehabilitation of these K9 warriors. So, please wear your gear as a badge of support to the Warrior Dogs.
"These dogs have saved countless lives and prevented innumerable horrific injuries."
- Mike Ritland
Warrior Dog Ozzy's Bio:
Ozzy was born July of 2010 in Winnipeg, Canada, and comes from a long line of proven successful working dogs. Ozzy was certified through the United States Police Canine Association. His certifications were in patrol/apprehension, narcotics detection, and tracking. Ozzy won the top rookie dog award in the 2012 USPCA region 12 field trials. Later in 2014, Ozzy finished 4th overall in the nation at the USPCA national narcotics trial.
Show everyone who you support with the WDF Donation Supporter Badge. Every donation supports each and every Warrior at the Ranch.
Donation Supporter Badge - Bumper Sticker: Silver
Waterproof
Available in 4"x4"
3 Tiers

Wipes Clean
Great for any surface
Founded by Mike Ritland, the Warrior Dog Foundation was created to provide a safe haven for our nation's retired four-legged heroes to live out their days receiving the proper care and rehabilitation they deserve. Wear your Warrior Dog Foundation gear with pride, knowing you are supporting those who spent their lives protecting us and our nation's freedom.
Share
View full details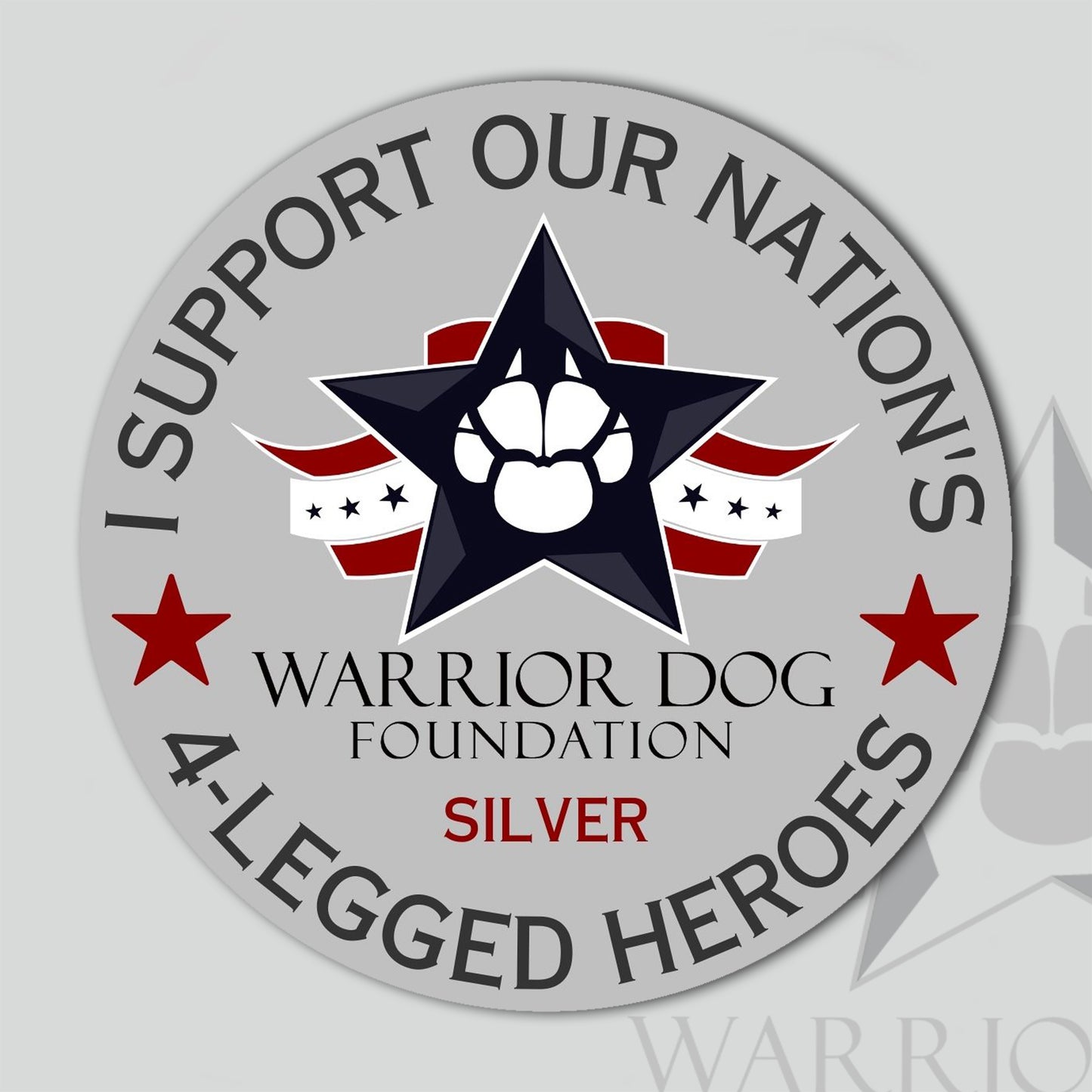 Suitable for Framing
If you're like me, and can't commit to a bumper sticker on your car (no matter how beautiful or important the bumper sticker may be), get a small frame and display your support for these remarkable K9 heroes wherever you want. It's an honor to be able to give something back to them.
No brainer
Grateful for the opportunity to support the four-legged warriors who spent their lives protecting us and our nation's freedom.